Thighplasty improves the appearance of your thighs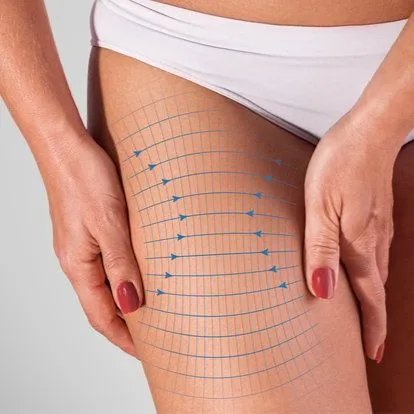 Thigh lift, or "thighplasty," is a common surgical procedure to correct excess skin, fat, and dimpling of upper leg. Weight changes and aging are some of the main causes for developing excess skin and fat in the thigh and knee region, and are some of the main motivations cited by our Austin area thigh lift patients for pursuing this operation. A thigh lift can help restore a smoother and slimmer contour of the upper leg.
Austin area plastic surgeon Dr. McFate is fully trained in the latest techniques of thigh lift surgery and lower extremity contouring to produce optimal results. Request a consultation today to decide if a thigh lift is the right procedure for you.
Am I a Good Candidate?
Patients with excess skin of the thigh down to the knee may be excellent candidates for a thighplasty. Patients should be in good health, non-smoking, maintain a stable weight, and have reasonable expectations. Specifically, patients with significant weight loss such as with bariatric surgery or a lap band procedure may benefit greatly from a thigh lift.
Patients should be willing to accept a scar along the inside of thigh that can sometimes be visible with short legged clothing. A patient can expect to have a decreased size and smoother contour of the upper leg region.
The Operation
A thigh lift typically takes 3-4 hours depending on the degree of correction required. Many times the procedure combines liposuction along with removal of skin and soft tissue. Incisions are made along the inner aspect of the thigh and/or in the groin depending on the area of concern. The surgery can be performed as an outpatient procedure in our office operating suite with IV anesthesia or in a hospital setting with general anesthesia.
Afterwards, the legs wills be loosely wrapped in special dressings. Patients can expect soreness and tightness for 1-2 weeks. Some bruising and swelling may be present for several weeks after surgery. Patients should avoid any strenuous activity that will elevate the heart rate for two weeks with a return to any exercise after 4-6 weeks.
In addition to a thigh lift, many patients find it helpful to combine this surgery with other body contouring procedures such as an abdominoplasty or brachioplasty. If you're looking for a thigh lift in Austin, TX, request a consultation today with Dr. John McFate to help decide if this is the right procedure to improve your upper leg contour and meet your individual goals.